Cormac McCarthy has died at 89 of natural causes at his home in Santa Fe, N.M. McCarthy, long considered one of the great novelists of American literature, had his passing confirmed via a statement from his publisher. Widely seen as one of the US's greatest novelists, McCarthy was best known for The Road, the 2006 post-apocalyptic novel about a journey taken by a father and his son. Other critically acclaimed books by McCarthy are All the Pretty Horses and No Country for Old Men, both of which were turned into films. The Coen brothers' No Country for Old Men, in 2007, dominated that year's Academy Awards and won best picture, while the 2009 film of The Road was also well received. But of course we at Gothic Western consider his brilliant novel Blood Meridian his best.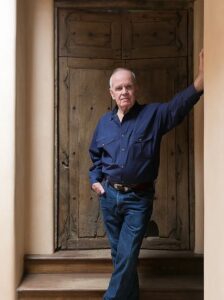 McCarthy won the Pulitzer Prize in 2007 for his stunning, post-apocalyptic, father-son love story called The Road. He wrote most compellingly about men, often young men, with prose both stark and lyrical. There was a strong Southwestern sensibility to his work.
"McCarthy was, if not our greatest novelist, certainly our greatest stylist," says J.T. Barbarese, a professor of English and writing at Rutgers University. "The obsession not only with the origins of evil, but also history. And those two themes intersect again and again and again in McCarthy's writing."
Take, for example, this early scene in McCarthy's Western classic Blood Meridian. A teenage boy from Tennessee runs away and eventually lands in San Antonio, haggard and penniless. In exchange for a horse, saddle and boots, the boy agrees to join a renegade ex-Confederate captain who intends to invade Northern Mexico to claim it for white America. That night, the lad and two new acquaintances go to the local cantina, where they meet an old Mennonite who issues dire warnings that their adventure in Mexico will end badly.