You can't talk about Southern Gothic blues music without mentioning The Gun Club. The band was the creation of Los Angeles singer, songwriter, and guitarist Jeffrey Lee Pierce. Born of Pierce's obsession with antique country blues, the band was a prominent and often-reviled fixture of the second LA punk rock wave. The group never managed to command much respect at home, but proved wildly popular in the UK and Europe, where it toured widely.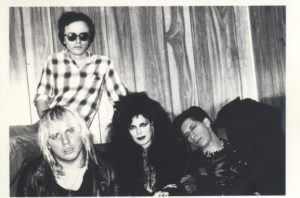 The Gun Club's precursor band, The Creeping Ritual, formed in late 1979. Along with Pierce (lead vocals and guitar), the first lineup consisted of Brian Tristan (lead guitar), who was later renamed Kid Congo Powers during his stint with the Cramps; Don Snowden (bass) and Brad Dunning (drums). In April 1980, they changed their name to the Gun Club. Snowden and Dunning departed in June 1980, replaced by two ex-members of the Bags, Rob Ritter and Terry Graham. Ritter left in 1982, replaced by another Bags bandmate, Patricia Morrison.
Co-produced by Chris D. and Tito Larriva of the Hispanic punk trio The Plugz, The Gun Club's debut Fire Of Love (1981) captured the group's early attack to perfection. The LP included the key Pierce originals "Sex Beat," "She's Like Heroin to Me," and "For the Love of Ivy" (a paean to The Cramps' Poison Ivy Rorschach), plus covers of Tommy Johnson's "Cool Drink of Water Blues" and Robert Johnson's "Preaching the Blues."
In April 1982, the Gun Club signed to Blondie guitarist Chris Stein's Animal Records, a subsidiary of Chrysalis Records. The band temporarily relocated to New York City to record their follow-up album, Miami. The album contained gothic roots stompers "John Hardy", "Bad Indian" and "Watermelon Man", and often ventured into Gothic Western territory.
1984 saw the return of Kid Congo, and the release of Las Vegas Story. This album marked a significant change for the band; it represented a shift away from the Southern Gothic blues of Fire of Love and Miami and a step towards a more polished, alternative rock sound.
Over the years The Gun Club recorded several great albums, and went through many line up changes. Mark Lanegan, ex of Screaming Trees fame, has recently done a cover of album opener "Carry Home" and says that Pierce is probably his single greatest influence. They were due to work together before Pierce died in '96.
Much as 16 Horsepower is held as the founders of Gothic Country music, The Gun Club is often beholden as the precursors of Southern Gothic Blues music.
(Main photo by Edward Colver).