The Heart Is a Lonely Hunter (1940) is the début novel by the American author Carson McCullers; she was 23 at the time of publication. Set in a small town in the middle of the deep South, it is the story of John Singer, a lonely deaf-mute, and a disparate group of people who are drawn towards his kind, sympathetic nature.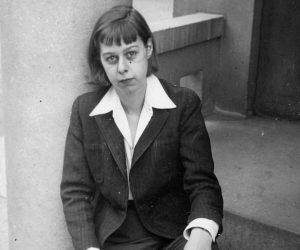 The title comes from the poem "The Lonely Hunter" by the Scottish poet William Sharp, who used the pseudonym "Fiona MacLeod": Deep in the heart of Summer, sweet is life to me still, But my heart is a lonely hunter that hunts on a lonely hill.
The book begins with a focus on the relationship between two close friends, John Singer and Spiros Antonapoulos. The two are described as deaf-mutes who have lived together for several years. Antonapoulos becomes mentally ill, misbehaves, and despite attempts at intervention from Singer, is eventually put into an insane asylum away from town. Now alone, Singer moves into a new room.
The remainder of the narrative centers on the struggles of four of John Singer's acquaintances: Mick Kelly, a tomboyish girl who loves music and dreams of buying a piano; Jake Blount, an alcoholic labor agitator; Biff Brannon, the observant owner of a diner; and Dr. Benedict Mady Copeland, an idealistic black physician.
Whether quiet or roaring, deliberate or reckless, the voices of The Heart Is a Lonely Hunter unite in a common cry of isolation, a theme that reverberates through McCullers's other works. Yet, a glimmer of hope remains. "All is serene," McCullers writes toward the end of her story—life is an old whistled tune, water pitchers are full of zinnias, and the morning sun will come again.
When published in 1940, the novel created a literary sensation and enjoyed a meteoric rise to the top of the bestseller lists; it was the first in a string of works by McCullers that give voice to those who are rejected, forgotten, mistreated or oppressed.